Tricolore 7s Slot Review: Free Play and Bonuses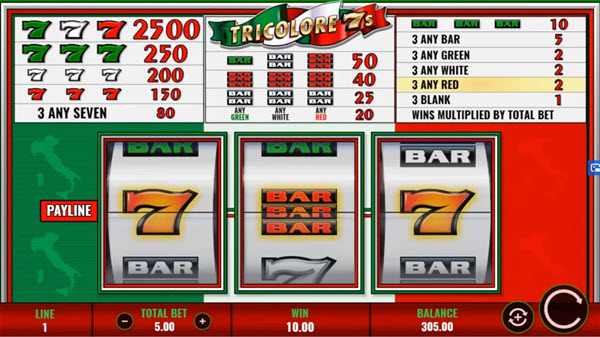 Read our review of the IGT-developed Tricolore 7s video slot or play the demo version for free right now! Click here to get to the website!
A single payline plus three reels are used in the Tricolore 7s slot machine, which depicts the colors of the Italian national flag on each reel. The traditional structure and straightforward gameplay make this a popular format among gamblers. The reels are filled with traditional BAR symbols and bright 7s, which may result in prizes of up to 2500 times the entire bet if the right combination is formed.
The classic design and vibrant red, green, and white color palette are compatible with both mobile and desktop platforms, and they look excellent on any device. Playing the Tricolore 7s slot machine online is a great choice for anybody searching for a game with a large betting range, easy but engaging gameplay, and the possibility for significant rewards.
Welcome to Italy—Benvenuto in Italia!
While the visuals have been purposefully kept basic, there is a hint of the well-known Italian design style to be seen throughout the game. It's worth noting that the game title is wrapped in the primary colors of the Italian flag, which you can see just above the reels. Little maps of Italy are placed in the corners of the base game to further accentuate the strong reds and greens of the background.
Unlike many other three-reel slot machines, the Tricolore 7s video slot's payline table is always visible and accessible to the player at all times. It's located above the reels and contains all of the information on the number of times your entire bet will be repaid when winning combos of BARs or 7s come across the payline in a row. 7s and BARS are available in green, red, and white to go with the theme.
The game was developed by IGT, which is considered to be one of the best in the market. Despite the fact that their artists have done an excellent job of infusing the Tricolore 7s slot machine with Italian flavor, the music is regrettably little more than a succession of beeps, bleeps, and jingles. Pessimo! (roughly translated: "very bad!")
Make Your Choice of Bets
In addition to being able to play the Tricolore 7s video slot for free right now, the minimum real money wager is a meager 0.01 per spin. You may increase your stake in increments of ten dollars up to a maximum of ten thousand dollars, which accommodates most budgets and bankrolls. If you're familiar with the way three-reel, one-payline games operate, there aren't any surprises here.
The Tricolore 7s video slot, like all other IGT games, is completely fair and is fully regulated in many online gaming countries, including the United Kingdom. In terms of theoretical return to player (RTP), it has an RTP of 92.54 percent to 96.24 percent, which is very standard for conventional three-reelers.
When you play the Tricolore 7s video slot for the highest stakes of 100.00 for each spin, the highest reward available is a whopping 250,000.00, which is an incredible amount of money. You may place a wager with as little as 0.01 and win up to 25.00 for such a small stake.
Lots of action on the three reels.
Traditional games, like the Tricolore 7s online slot machine, have a long-lasting allure for many players. Perhaps it isn't strange to see a huge slew of vintage-modeled games that all follow the same basic structure and gameplay. With just three reels and one payline, the Reel Classic 3 video slot from Playtech is a well-known example of a slot machine with no-frills that can be played on any device. Aside from the eye-catching color combinations and simple, strong icons, the paylines table will also attract your attention, revealing a top reward of 5,000 coins as well as a number of other prizes.
Taking things one step further, Betsoft's Diamond Jackpot slot machine is available. There are inclined buttons on the digital controller and a faint sense of a casino backdrop behind the game to give it the appearance of a land-based slot machine. The basic gameplay is nearly similar to that of the Tricolore 7s slot game, with the extra benefit of the possibility of winning a progressive jackpot payout if you land three diamonds across a payline on the reels.
When in Rome, do what the Romans do.
Actual cash players will enjoy the delight of lining up icons to form winning combinations without having to deal with any additional intrusive features when they enjoy the Tricolore 7s video slot. Slots don't get much simpler to enjoy than this, and that's exactly why so many bettors like them.
Following our Tricolore 7s analysis, we discovered that it has a moderate level of volatility. The pleasing mix between the number of winning spins and the comparative value of those winning spins will appeal to the broadest possible range of players. However, online and mobile slots both offer the option to turn down the volume, which is a welcome change from the harsh original music.
If you enjoy simple games with a dash of color and design, you should try out the Tricolore 7s slot machine at one of our recommended casino sites that feature IGT games.
Frequently Asked Questions about Tricolore 7s Slot
Can I use Bitcoin to play the Tricolore 7s video slot machine?
Yes! Using Bitcoin, you may deposit and wager on the Tricolore 7s video slot at any casino that accepts Bitcoin as a deposit option. Consider checking out our list of the top Bitcoin casinos and claiming your welcome bonus as soon as possible.
Is it possible to play the Tricolore 7s video slot on my tablet or smartphone?
In fact, the Tricolore 7s slot machine may be accessed on your smartphone through a website or an app, depending on whether the casino offers one. Check out our mobile slots page for helpful hints and advice on how to play at the top online mobile casinos.
Where can I get a demo version of the Tricolore 7s video slot?
You can try your luck at the Tricolore 7s slot machine for free right here on our website. Experience the thrill of this game's unique features, as well as the hundreds of others you'll discover on our website for yourself.
Where can I find a place to play Tricolore 7s online for actual cash?
For those who choose to wager real money on the Tricolore 7s slot machine, there are several possibilities available. Browse through our collection of new casino sites to ensure that you get off to a flying start!