Max Quest Slot Free! Play Betsoft Free Slots Now!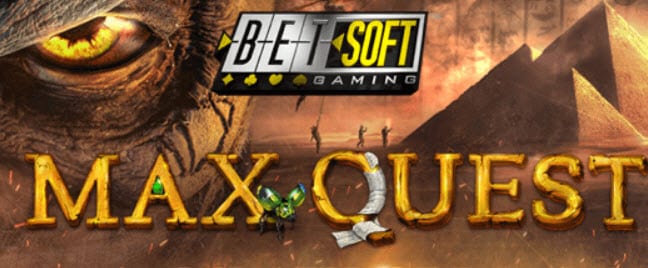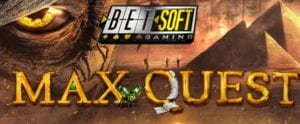 Max Quest: Wrath of Ra is an exciting new slot from Betsoft that is unlike any other video slot we have come across before. And we promise you that after you try your hands on this slot, you'll agree that this is Betsoft's biggest release to date.
It starts off as a quest to find the treasures hidden deep within the tombs of ancient Egypt. Archaeologist Professor Finnley Ogarian leads a team of explorers to the realms of the sun god Ra who has been 'lain undisturbed for millennia'. During the journey, they awaken Ra and unleash his curse. Now, it is up to you, the player, to defeat Ra's army that has been arisen and find the hidden treasure.
Max Quest: Wrath of Ra is a grand adventure that is very much like an immersive video game. This slot brings the online casino gaming experience to a whole new height. Betsoft has truly outdone themselves this time. This slot is an innovative release that will revolutionize the online gambling industry and set new trends. And if other developers are paying attention, we can be sure of new releases in line with the distinctiveness of this game.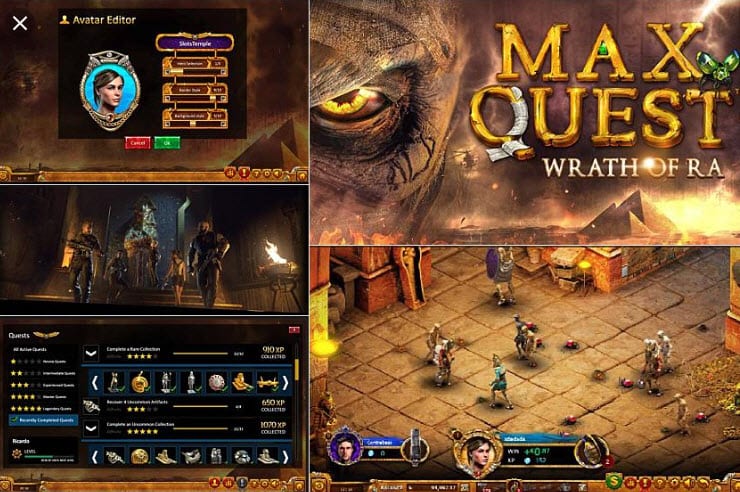 What can we say but this game's visuals are of epic proportions. This level of detail is unprecedented in the online gaming industry. The graphics are rich and the animation is exceptional. An extraordinary gem that took us by surprise, in a very pleasant way. This game will give you so much thrill that you will forget the time as it passes. Hours and hours of pure gambling pleasure is awaiting as you dive deep into this title.
Betsoft Casinos for USA Players
Gameplay
As you start the game, you will be asked to choose a room to play. This is where you would choose how much stake you will be placing in the game. The 5 rooms to play correspond to the different bet levels available. Once you make your choice, the bet level you have chosen will be the cost of each bullet your weapon will fire towards the enemies which will come in the form of mummies, pharaohs, scarabs, spiders, and more.
Once you enter the room you have chosen, you will then be presented with various enemies to shoot with your default weapon. As you shoot and eventually defeat an enemy, you will be rewarded with payouts.
Keep in mind that this game doesn't come with a strategy or skill, the wins you are awarded during the whole gameplay are all random coming from the random number generator (RNG).
The key to landing bigger wins in this game is to get more powerful weapons which will kill more enemies. There are two ways to do that. The first is through defeating an enemy which will give you a new weapon to play with. The second is through buying a special weapon by clicking on the green button located below your character badge.
As you progress in the game, you will trigger a special feature called God Events. This happens when you complete a round, but not always. Again, as with slots, all of these are randomly activated.
God Events are when all of the enemies you see on the screen suddenly disappear. What will happen next is that a god along with his army will appear to be your new targets this time. Of course, God Events will come with potentially bigger payouts than normal gameplay.
Another cool feature of this slot is that it can be played by up to 6 players simultaneously. That's right. This is a multiplayer slot and when you play the real money game, you can be joined by other players the world over in conquering this game.
When this happens, you and the other payers will end up sharing wins depending on the number of bullets you have fired.
Max Quest: Wrath of Ra will also come tied with a leaderboard. 2 percent of all the bets made will form the pot money that will be shared by players who will make the top spot. Each online casino that will offer Max Quest: Wrath of Ra will also have the ability to tinker with how the prize money is distributed. So we will see the prizes for each casino vary.
The max payout one can win in a single spin is 5000 coins or $100,000. This slot also has a considerable RTP of 96%. As you play along, you will level up by accumulating experience points which are awarded as you shoot and defeat enemies.
You will also be assigned different quests with the aim of discovering hidden treasures. These quests will range from 1 star to 5 star quests.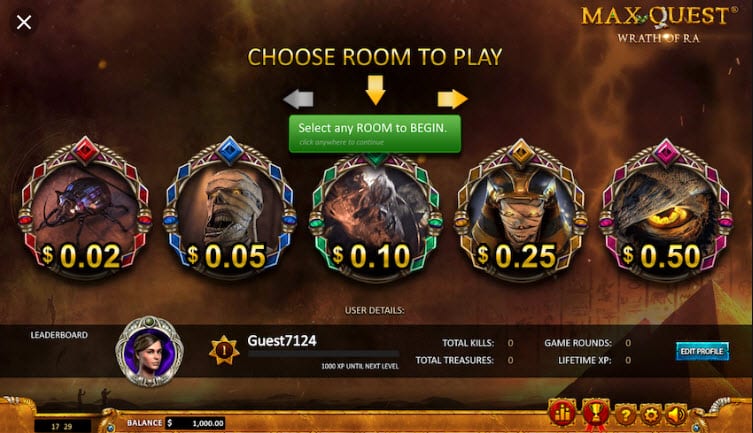 Conclusion
Max Quest: Wrath of Ra is a completely new sort of game the world of online gaming has never seen before. It is a totally innovative slot that is both revolutionary and groundbreaking. Truly, this slot will set a new era in the industry. The future of online gaming will never be the same as this slot sets a whole new trend in how games should be.
Innovation is the name of the game. And as players the world over become much more demanding in the quality of the gaming experience they require from each new release they get their hands on, we are confident that Max Quest: Wrath of Ra will satisfy both newcomers and seasoned punters in how beautiful and exceptional this all new slot is.