BoB Coffee Shop Slot Review – (BGaming Software)
Come, have fun, and get high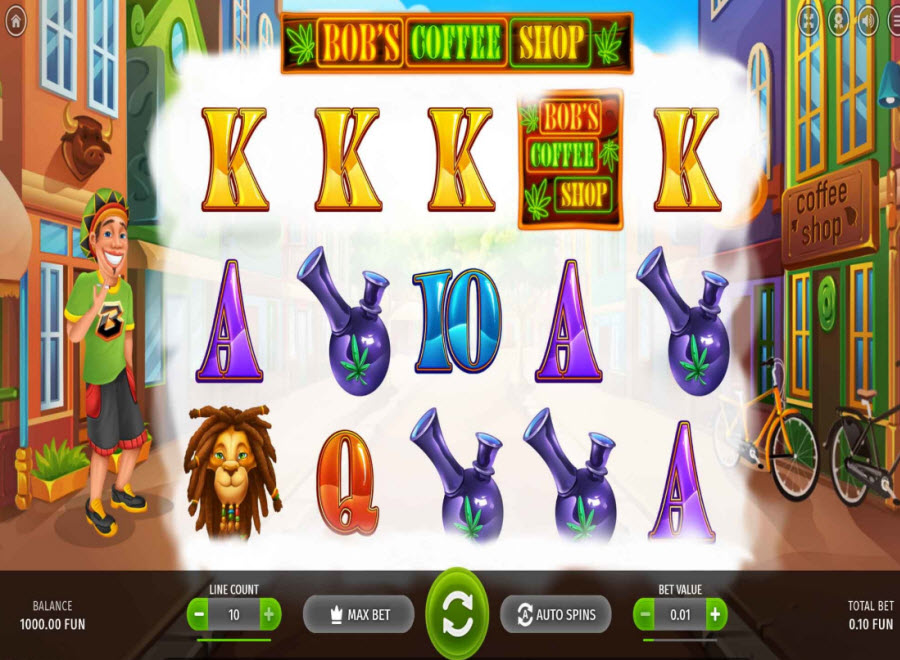 Bob's Coffee Shop slot is one of the most hilarious games out there, giving you a whole lot of amazing rewards and fun.
BGaming Casinos
Bob is a chill dude that has a special kind of shop in Amsterdam. He is the star of one of the most hilarious online slot machines that we have stumbled on for some time.
This game is has ten paylines on five reels and BGAMING was able to make us laugh through out. You have symbols like lions who have dreadlocks in their manes, lips smoking rolled cigarettes and a bong that has a marijuana leaf in it. There is no doubt as to theme of this game.
We are doing this review to see if this game was butchered or not by BGAMING. This game is fully optimized for mobile and you can play all lines activated from just 0.10. If you match the right icons, you can get up to 500x per bet or even activate a special free game round that proposes expanding symbols.
Visit Beautiful Amsterdam
You have some amazing fun details that you will see in this slot game. The symbols are against a cloud of white smoke and to the left, you can see Bob, smoking happily on the streets of Amsterdam.
To spin the reels, you will click on the picture of an hand in the peace sign. You can find it below the reels. As the reel spin, some kind of reggae music plays and we thought it was the most perfect thing to go with the whole gameplay.
This game in spite of its theme, is quite conventional. You get a prize when you land matching icons on a payline from left to right, without anything interfering in the sequence. Surprisingly enough, you won't see a wild symbol so it is a bit tough to get winning combos. But you won't have to play for a long while before getting rewards.
You have the classic playing card symbols from 10 to A and they can create a lot of combos. They go from 2x, 10x or 100x your bet on each payline when the Q, J or 10 cross from three to five reels on a line. With the K and A, you get 2x, 20x or 200x for the same sequence.
You don't need a lot to get a prize. Just two matching picture symbols. The bong or the pink lips with a rolled up joint in them give you 1,000x your stake line. The lion with dreadlocks could give you even up to 2,000x. You get amazing animations when you get a winning line with these symbols. The lion could laugh to himself for instance.
The highest paying symbol is Bob. He gives you 5x you stake line when he lands just on the first and second reels from the left and when he fills a payline, he gives you up to 5,000x.
When you throw an eye on the paytable of Bob's Coffee Shop, you can see what each of the combos could give you when they line up.
Free Games.
You should follow the Bob's Coffee Shop sign and the marijuana leaves with a neon effect to go to this famous institution. This will also give you an amazing bonus round game of you see it in more than two places at the same time. Before these bonus games can start off, you get 15x, 150x or 1500x your stake line depending on how whether there was the appearance of three, four or five.
There is a scene change when the bong gets into the centre of the screen. You have different symbols parading in the bong until one of them is selected at random. It becomes super special during the ten free spins. These ones expand on the reels they land and could actually complete a winning combination.
You don't even need to see the symbol that was chosen on consecutive reels. So it is very easy for this one to give you some amazing rewards before you come to the end of the bonus feature.
You will have this round in the inside of Bob's shop. You will see customers happily smoking. We would have to agree that what makes this game is the free spins feature, especially if you have a high value symbol selected at random at the start.
Mobile Compatibility
This game is specially optimized for mobile phones so you could play it on your Windows phone, your Android device, your iPad or your iPhone. You could also play this game on your laptop or desktop. You can switch the number of paylines you want to play, but we would recommend activating all of them so that a winning combo won't end up on a non-active payline.
The bet per line can go from 0.01 to 1.00. So per spin, the max stake would be 10.00. You could adjust the reels to auto spin even 1,000 times and you can choose to stop them at any win or if one win goes over an amount you chose.
You could choose to change the volume of the music. This one fits very perfectly with the whole chill out vibe that Bob's Coffee House gives off.
You can also adjust the volume of the soundtrack, which you'll find fits in perfectly with the chilled-out vibe of Bob's Coffee House.
Verdict
You should definitely go and chill at Bob's Place. There is a lot of humor in this cartoon style game. It is easy to understand the game because not a lot of thought process is involved. Just chill out at this online slot and be relaxed.
BGaming Online Slots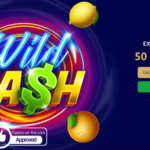 Katsubet Casino No Deposit Bonus – (50 Free Spins) KatsuBet Casino Merits The creator is established A wide array of games Multiple promos New casino with potentials Mobile optimized website…