Alien Fruits Slot by BGaming: A Cosmic Adventure Awaits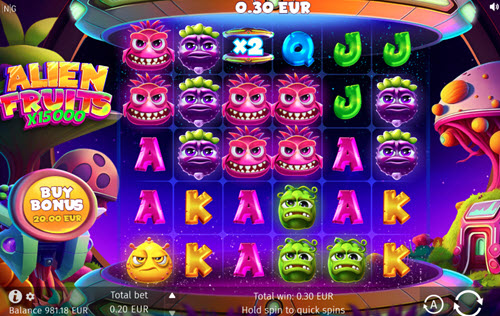 Boost your cosmic winnings with our Alien Fruits slot review! Uncover intergalactic riches in this thrilling online game and claim your stellar prizes now!
Regarding online slot gaming, 2023 looks to be defined by the grand launch of BGaming's innovative Alien Fruits slot game. With its official release date slated for April 13, 2023, Alien Fruits is a game set to revolutionize the traditional concept of fruit-themed slots, introducing a fresh and captivating intergalactic twist.
Combining a well-loved concept with a futuristic setting sets Alien Fruits apart in a world where classic fruit-themed slots still reign supreme. It carries a rich heritage of timeless games, yet with its unique theme, it is set to trailblaze into the future, enticing a new breed of slot gamers seeking a blend of nostalgia and novelty. With crisp AI-generated graphics, a robust RTP of 96%, and the promise of winning up to €180,000, Alien Fruits is no ordinary fruit-themed slot – it's an otherworldly adventure that players will find irresistible.
Co-CPO of BGaming, Yulia Aliakseyeva, echoed these sentiments: "We at BGaming are incredibly excited to add Alien Fruits to our portfolio. As a leading slot game provider, this addition solidifies our commitment to producing creative, engaging titles."
Gameplay and Mechanics of Alien Fruits
Part of the magic of Alien Fruits lies in its gameplay and mechanics. A crucial feature of the game is the cascading game mechanics, a concept not new to the gaming world but innovative in its application here. When a winning combination is scored in Alien Fruits, the victorious symbols disappear, replaced by new symbols cascading from the cosmic void above. This creates the potential for a string of victories from a single spin, elevating the game to stratospheric excitement levels and potential rewards.
The layout of Alien Fruits follows the classic 5-reel, 3-row structure, but the details within this framework set the game apart. The 20 paylines are laden with whimsical fruits and quirky aliens, each with a unique value. The highest-paying symbol is the fierce red alien, bound to get players' pulses racing every time it lands on the reels. Adding to the thrill, the game features a wild symbol and a scatter symbol, each bringing its own distinct flavor to the gameplay.
The betting range in Alien Fruits is designed to cater to every type of player. Starting at a humble 0.20 coins per spin, the range stretches to an astronomical 50 coins per spin, providing an inclusive platform for cautious players and high-rollers alike.
Yet the most appealing aspect of Alien Fruits is, without a doubt, its jaw-dropping payout potential. Players can win a mind-blowing 15,000x their bet, turning even a modest wager into a potentially huge windfall. This massive reward is attainable during the Free Spins feature, triggered when three or more scatter symbols grace the reels. During these free spins, players can score up to 20 extra spins, and each cascade comes with a random win multiplier, turning the Free Spins feature into a goldmine of potential winnings.
However, it's important to note that Alien Fruits has high volatility. While this could mean fewer wins, it also signifies that the wins can be substantial, offering players an enticing risk-reward ratio. The game's RTP percentage hovers at 95.97%, sitting comfortably around the industry average, demonstrating that BGaming has balanced out the high volatility with a fair return to players.
Alien Fruits Symbols and Features
Its collection of symbols and features makes Alien Fruits a spectacle. In a refreshing departure from the traditional symbols associated with fruit slots, the Alien Fruits universe is inhabited by celestial fruits like cherries, lemons, oranges, and grapes, each with a unique space twist. This playful, unconventional approach to the game's symbols creates a vibrant and captivating gaming environment.
Every symbol in Alien Fruits carries a unique value. The alien fruit is the most valuable symbol. In contrast, the other fruits, cherries, lemons, oranges, and grapes, are lower in value but more frequent on the reels. To score a win, players must land at least three matching symbols on an active payline, starting from the leftmost reel.
A significant symbol in the game is the Wild symbol, represented by a Dimension Door. This symbol can appear on reels 2, 3, and 4 and has the power to substitute for all other symbols (excluding the Scatter symbol) to help form winning combinations.
The Scatter symbol, in the form of a Flying Ship, is a harbinger of luck and fortune. When three or more symbols land on the reels, they trigger the highly anticipated Free Spins feature. Once this feature is activated, players are rewarded with ten free spins. But there's more – during these free spins, the Dimension Door Wild symbol expands to cover the entire reel, increasing the potential to form winning combinations. Land three more Scatter symbols during this feature, and you'll re-trigger the Free Spins, making it a potentially endless cycle of rewards.
Aside from these standard features, Alien Fruits has one more trick – an interesting expanding symbol mechanic. Whenever a winning combination is scored, the symbols in the winning combination expand to cover the entire reel. This leads to potentially more winning combinations, thus increasing the potential for huge payouts, especially during the Free Spins feature.
Graphics and Sound in Alien Fruits
Alien Fruits paints a stunning visual and auditory landscape. Set against a backdrop of a starlit sky with a distant planet, the intergalactic theme is beautifully rendered. The reels sit against a deep, dark space, highlighting the neon-colored symbols. The imaginative design of the symbols, featuring otherworldly fruits such as a watermelon with an eye and a pineapple with tentacles, adds to the game's visual appeal.
BGaming has done a commendable job with the quality of graphics and animations. From the meticulously designed symbols to the smoothly transitioning reels, Alien Fruits offers a high-quality gaming experience. The 3D quality of the symbols lends depth to the game, making them pop against the darkness of space.
A significant aspect of the gaming experience in Alien Fruits is its soundtrack. The background music is futuristic, upbeat, and exciting, perfectly complementing the game's space theme. The music isn't disruptive or intrusive; it enriches the gaming experience, making players feel like they are on a space adventure.
BGaming has also paid attention to sound effects, ensuring they contribute to the overall experience. Each winning combination, bonus feature, and reel spin is accompanied by unique sounds, adding layers of engagement to the game. Far from becoming repetitive or annoying, these sounds immerse the player, adding excitement to every spin.
Playing Alien Fruits for Free
Before plunging headfirst into an interstellar gaming voyage, potential astronauts can engage with Alien Fruits in a risk-free environment. BGaming, understanding the importance of experiencing a new game before playing for real stakes, has smartly introduced a demo mode for this colorful cosmic escapade. The free-to-play option of Alien Fruits offers a comfortable exploration of the game, without the need for any financial investment.
The demo mode is like a flight simulator for this intergalactic journey. It allows would-be space gamblers to get their bearings before blasting into the thrilling universe of real-money slots. This risk-free game mode replicates the real game, offering all the vibrant graphics, engaging sounds, and exciting gameplay mechanics that the full game boasts. By allowing players to try before they buy, BGaming ensures that when you choose to wager, you're entirely familiar with the game's quirks and bonus features.
Playing Alien Fruits for free can be beneficial for multiple reasons. For novice players, it can provide a foundation for understanding how online slots operate, including paylines, symbols, bonus features, and betting ranges. More seasoned players can use the demo mode to build and refine their strategy, test different betting levels, and understand the game's volatility and payout potential.
The demo mode also allows players to indulge in the game's dynamic graphics, innovative gameplay, and captivating theme, absorbing the essence of Alien Fruits without any pressure to win. By experiencing the full scope of the game in a relaxed environment, players can truly appreciate the creativity and detail put into designing Alien Fruits.
There's a certain freedom that comes with playing the demo version. There's no rush to bet or win, allowing an enjoyable, stress-free gaming session. Instead of constantly monitoring your balance, you can simply revel in the fun of every spin, every symbol drop, and every bonus feature.
While the demo version is an excellent training ground, it's important to note that some features or benefits might not be accessible as they would in the real game. For instance, while you can amass virtual wins, these cannot be converted to real cash. Despite this, the excitement of hitting a big win, even in demo mode, can still provide a thrilling gaming experience.
Conclusion
Alien Fruits is a testament to BGaming's prowess in game development. With its whimsical intergalactic theme, many features, and massive payout potential, it has significantly upped the ante for fruit-themed slots.
By allowing players to try the game for free, BGaming has made this incredible gaming experience accessible to all. So, gear up for an out-of-this-world gaming adventure with Alien Fruits!