EntroPay Casino – Best 10 Alternative Payment Methods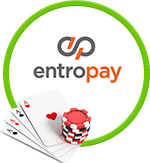 EntroPay is one of the most popular payment methods adopted by online casinos today. EntroPay is a payment option powered by Visa. In order to use EntroPay, you will be issued a virtual Visa debit card. This virtual card is not linked to any bank account whatsoever. With the virtual debit card, you can fund your casino account and make other purchases without hassle. EntroPay is secured, fast, and easy to use.
EntroPay is generally acceptable at any casino that Visa Cards are allowed as a means of payment. You can use EntroPay to fund your casino account and also to withdraw your earnings from your casino account.
WHAT IS ENTROPAY?
EntroPay, as earlier said, is a payment system that is powered by Visa. After signing up, Visa will issue to you a virtual debit card that can be used at any time to either to pay or withdraw.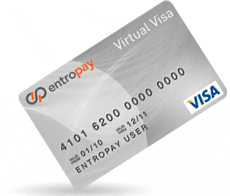 EntroPay guarantees a high level of security as it is not linked to your bank account. It operates as a stand-alone payment system, and you can always use it instead in place of traditional credit cards that are linked to your bank account.
EntroPay is owned and managed by a company named Ixaris Systems Ltd. Ixaris System Ltd. is located in London in England. The company also has a site in Malta. Though EntroPay operates from London and Malta, its virtual debit card can be used anywhere in the world where Visa is accepted as a mean of payment. The Bank of Valletta issues the virtual debit card in conjunction with Visa.
Ixaris System Ltd. is a reputable and licensed company. The company is licensed and regulated by the UK Financial Conduct Authority (FCA).
One of the reasons why EntroPay is more preferred to other payment option, especially credit card is because it allows you to manage your spending. That is, you can fund your debit card with any amount of your choice, and you will be allowed to spend the same amount you load on your debit card. This is more preferable as you cannot incur debt on your debit card like the traditional credit card.
It is fast and easy to register on EntroPay. After signing up on their website, a virtual debit card will be issued to you immediately. You can either fund the virtual debit card with your credit card or through your bank account.
EntroPay allows its users to request for a physical debit card to use in ATM machines and to pay in a convenience store. This physical debit card is issued by MasterCard, and it is also accepted worldwide.
HOW TO USE ENTROPAY ON A CASINO SITE
Using EntroPay to fund your casino account is quite easy and not foreign. To use EntroPay to fund your casino account, you will need to input your desired amount, your name (your full name on the card), your card number, your CCV and the card's expiring date. EntroPay's payment process is just like that of a traditional credit card.
As said earlier, you can also use EntroPay to withdraw your winnings from your casino account. To do so, you will need to choose EntroPay as your means of withdrawal. Your earnings will be credited to your EntroPay balance as soon as you fill in your virtual debit card information and other information like your full name.
BENEFITS OF USING ENTROPAY
Using EntroPay comes with a handful of benefits; some of these benefits are:
EntroPay guarantees you maximum safety and security of your financial details. This is to say that any transactions made with your EntroPay is anonymous and cannot be traced back to your bank account.
You can transact in the generally accepted currencies like Pounds, Dollars, and Euros.
EntroPay also allows you to take total control of your spending. You are only allowed to spend the preloaded fund on your debit card.
Signing up on EntroPay is quite fast and easy. All you need to do is to visit their website to get started. Also, you won't have to wait for a physical card; instead, you will be given a virtual debit card instantly.
DISADVANTAGES OF USING ENTROPAY
Every payment option has its disadvantages, and EntroPay is not excluded.
Some of the major disadvantages of EntroPay are:
EntroPay will charge you to fund your account. The charge slightly differs depending on the means of payment. You will be charged 4.95% using a credit card or debit card to fund your EntroPay account. If you are funding your account via bank deposit, you will be charged 3.95%.
EntroPay will also charge you for withdrawals done by third-party outlets like casinos and so on.
You can use EntroPay to either pay or withdraw on any NetEnt Casino site.
Alternative Payment Methods