RoyalPanda.com Royal Panda Casino No Deposit Bonus Codes
ROYAL PANDA CASINO REVIEW
Is Royal Panda Casino Worth It?
This casino is quite a recent one (launched 2014) but it has managed to baffle us with its great notions if security, awesome range of games, coupled with mobile and live gaming. If you love slot games this is the place for you. If your preference lies elsewhere though, you could still take advantage.
One thing we love about this casino is that it has mobile compatibility. So you could play on your mobile device or your personal computer with no issues. Also, it is secure and fair, making use of an SSL encryption technology to keep your personal information private. Even though this casino has these advantages, you have the common issues that could arise. We have gone through a lot so to know whether or not Royal Panda Casino is worth it. And we have come to the conclusion that a number if things like bonuses and their terms as well as customer service need some work. Keep reading for more.
First, we will start with the game selection. Is it wide? And what kind of games are proposed?
You have over 300 games at your disposal. Honestly speaking, we all know that most single players wouldn't try all of these games. It's not really the greatest range out there though. You have casinos with over 500 to even 1000 games on the market now.
But like we said, the average player will be more than satisfied withb300 games so we don't have any issue with this.
You have a variety of table games to choose from. And you can also go through the video poker and poker games available. But the games with the biggest range at Royal Panda Casino are definitely the slot games.
You have the choice between the traditional slots and video slots. We have found that a lot of players seem to find video slots more thrilling.
You have slots that count 9, 7 and 5 reels. You have slot games with multiple ways to win (some offer up to 241). With a range like this, it will be relatively hard to make a choice.
When it comes to table games, you have the choice between roulette and blackjack and you will find variations of both games. You could even play them live. The same goes for baccarat. You will find five live games at this casino. It is not the greatest range but it is still something and the games are good. It is a great way to feel like you're in an actual Las Vegas casino. And what player wouldn't want that?

Yet another thing we love about Royal Panda Casino is the diversity. You will find casinos that have games from just one software provider, most especially Microgaming. Don't get us wrong, we have no issue with Microgaming. But we love variety and we think that's what best for players. At Royal Panda, you will find games from different providers like Elk Studios, Thunderkick, NextGen Gaming, Genesis, NetENT and Microgaming. This is a plus in our book. Don't you think so too?
Is playing at this casino safe? Does it have proper licensing?
To give you a brief answer; yes, playing at this casino is safe and its licenses have no issues
But let's get elaborate, shall we? Two types of licensing bodies exist. There are the bodies who license just the most reliable and secure casinos and will make sure that all is okay with these casinos. We love casinos that have these licenses because if they lose their credibility, their license is taken away.
The other types of licensing bodies are the ones that do not discriminate when it comes to online casinos. They don't care to check whether the casinos are legit, they just issue licenses. And no matter how many players complain, they don't care.
Royal Panda Casino has two licenses from the first type of regulatory bodies we mentioned. The bodies that issued its licenses are the United Kingdom Gambling Commission and the Malta Gaming Authority.
These licenses are the best you will see. A casino that obtains its license from any of these two bodies is most definitely legitimate and secure. You should also know that these casinos operate under a fair gaming process.
Also, with such casinos, you have the assurance that you will get solutions to your problems in record time. The UKGC and the MGA help players to get through all hurdles, making investigations and permitting you to have your issue solved
Also, this site is technologically advanced and you have the best security that you can find. You won't get your money stolen and neither will your personal information be invaded thanks to this SSL encryption.
We have more great news. You won't ever have your money stolen by this casino. Yes, we are making reference to those wild rumors that talk about casinos cheating their players and making their winnings lower using special scripts.
We don't really think it has a lot of sense especially concerning the casinos we review. These casinos (as well as Royal Panda Casino), have random number generator. With this, the results are completely random. So your wins depend on the random numbers and not on the casino itself.
And customer support? Is it reliable? Are the support agents able to solve your issues?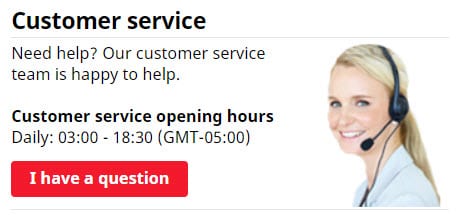 When it comes to online casinos, customer support is one of the most important things. Online casino players have issues on the regular and needs solutions to these issues. So they definitely need a team that will listen to them and help them solve their problems.
Royal Panda Casino's support team is not really at that great and we think it's one of the parts the casino should work on. Yes you can get into contact with them through phone, live chat or email.
The problem is that you can make use of the live chat only at particular moments from 9 am to midnight. The best casinos have support teams that available 24/7 so we really don't think this is a great thing
But Royal Panda Casino has promised to work on this and we hope that sometime in the near future, we are going to see a customer support team that runs round the clock as it is a very big plus.
We have through so many sites that reviewed Royal Panda and we noticed that the customer support agents do not do proper work sometimes. We have seen complaints that the waiting time was long. Others said that all they received was a copy and pasted text and no other form of help.
But we also saw positive reviews. Some players said they loved the customer support team and that they encounter no issue. It's your choice, playing or not playing here. But keep in mind that the support system of this casino is flawed.
Withdrawing your winnings at Royal Panda Casino. The available methods and things you should be aware of.
Withdrawing you winnings is an important aspect of online gambling and you need to have suitable and fast options at your disposal. Who wants their waiting period to be up to weeks? No one. When it comes to withdrawing your winnings, we don't have issues with Royal Panda Casino.
You have different ways available through which you can make your withdrawals. You could use bank transfers, electronic wallets or debit and credit cards. The waiting time when you use e-wallets to make your withdrawals is not long at all, just an hour. There have been complaints though that some people made. Apparently they had to wait even a week because the casino needed to confirm their identity.
When you use your credit, debit card or your bank account to make a withdrawal, you will need to wait one to give business days.
One thing that we love about this casino is that the maximum withdrawal amount is extremely high. So you can get even up to $50,000 a day. This is an okay sum except is you have won at a progressive jackpot. But these ones have no limits on their withdrawal.
We have had clients who say that verification takes a long time and because of this, the pending period might be as well.
One thing you should know is that you will have to use the same method you used to make your last withdrawal to make your next deposit. So if you made use of a debit card to withdraw, you will have to use it it to deposit. Also, the withdrawal and deposit methods must match. But if you have made use of different ways to deposit, it should be okay.
Are the bonuses worth it?
Royal Panda Casino offers a welcome package. It consists of 100% of the deposit you made but this will not exceed $100. Also, you get bonus spins to play at Starburst.
To some players, the terms for the bonuses are quite strange. You have high wagering requirements and you can use your bonus funds to bet but on the condition that you are using your own money to play. Make sure to read through the terms so as to know what to expect.
Can you play at this casino? Which countries are restricted?
You have a list of fifteen countries that cannot play at Royal Panda Casino. Players from Belgium, USA, Poland, France, Spain, Italy and a few other countries have restrictions placed on them it comes to playing. But as a resident of Russia, Germany, Canada or the United Kingdom, you have no issues. Just make sure to go through your country's legislation when it comes to online casinos.