VOODOO MAGIC SLOT REVIEW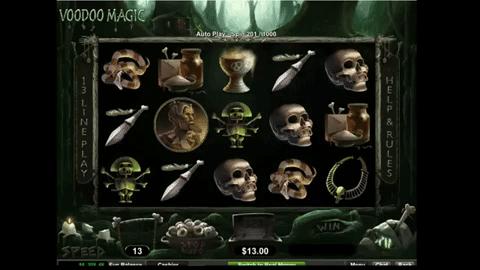 Voodoo Magic is a Real Time Gaming powered slot. This is a five reels voodoo-themed slot that features thirteen paylines, multipliers, wild symbols and scatter symbols.
RTG ONLINE CASINOS
About Voodoo Magic
Can you think of something that worth making you afraid than Voodoo? This game was developed by realtime gaming and you will need to gather a lot of items to claim presents. You are required to get in touch with the Wild Priestess after acquiring all these materials, the Wild Priestess will show you the way to go about unlocking free spins and winning multiplier using voodoo which will helps to win a lots on this slot.
This game is mobile-optimized as it works perfectly on all devices and you can start playing this game with as low as coin of 0.01 worth in each spin.
Wild Priestess
The Wild Priestess is needed to obtain high wins and it can only be found in a forest, therefore you need not to be courageous. As soon as you land in the forest, light will start fading away, which eventually get replaced by a noxious mixture of particulates and gases when approaching the priestess.
Priestess Rewards
Surviving after meeting the princess promises a lot of rewards. Among the things you will receive is coins of one hundred worth for weapon or charm, coins of five hundred worth for totems, coins of one thousand worth for voodoo mask, coins of two hundred and fifty worth for fire powder, eyeballs, bones, or bones and coins of three hundred worth for skulls. Locating the scatters can earn you a multiplier of about one hundred and the wild can earn you coins worth of two thousand.
The wild Priestess have the ability to replace some icons thereby resulting in more paylines. A feature called Black magic will be initiated after you have won scatters through by influencing the Black magic dolls, this give twenty-five free spin plus extraordinary multipliers. You will win normal prizes when you spin the reel for the first time, the second free spin earn you times two of your prize, and for the theird, it will be times three. This will continue like that till the win is multiplied by twenty five.
Magical Spin-Stake
Since this slot is all about magic, the spin-stake is magical as well. A maximum of thirteen paylines can be played, irrespective of the number of bet-lines you select, your stake must start from 0.01 or above, this indicate that the minimum bet per spin is 0.01 while the maximum one is 3.25 per spin.
Playing the Game
The opportunity to learn the art of black magic is extraordinarily amazing compare to if the game is new or not. All you just need is to play the game and acquire lot of bonus games and presents for learning about it. You can also check out the Palace of Chance if you think you are lucky enough.
Online Slots Real Money