Get Ready to Spin and Win with Win Mill Slot by Rival Gaming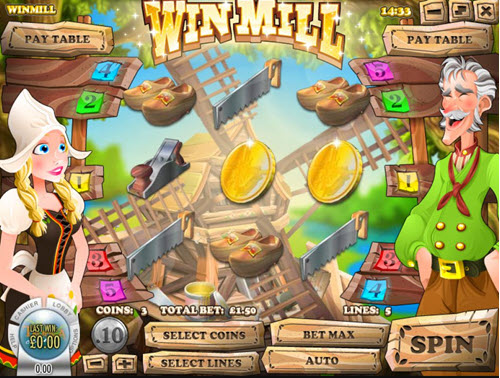 Among the most endearing games in the entire collection of free slots from Rival Gaming is Win Mill. A variety of themed tokens are combined with the simplicity of three reels and 5 paylines, which meld with a wonderfully rendered rural landscape. Additionally, there are two separate bonuses—one obtained by discovering the ideal combination of icons and another by chance. That means you can look forward to a variety of thrilling prizes in addition to simply enjoying the games.
Theme, graphics, and music
You can only pluck tulips in front of a windmill while wearing clogs in one nation. This game is unmistakably situated in the Netherlands and in a particularly lovely and endearing region of the country. You most certainly are not in the world.
Bright colors, clear skies, and lush surroundings create a rural haven where you'll like spending time. With transparent reels, the mill and its continuously rotating blades are constantly visible. Even the reels themselves move in a windmill pattern as opposed to spinning normally. Each icon is styled and rendered in stunning 3D detail. The stationary, blank face of the woman at the back of the reels seems a touch dull in comparison to the more realistic images used for them and the ongoing animations.
This slot's soundtrack is one feature that jumps out.
In addition to the constant sound of the water and the singing of birds that enhance this immersive scene, the slot's background music is cheerful and upbeat. Each symbol receives a different sound effect on a victorious spin to go along with the animations. For instance, you can hear the sound of wooden footwear hitting on the ground if you combine three pairs of clogs.
The Rules of the Mill Game
As with a lot of Rival Gaming slots, the I button, which shows the paytable, is the initial one you'll notice at the bottom left of the screen. Examine each symbol to discover its value.
You'll also find a common line of three icons underneath a payable link. The gear button opens the Settings page, the speaker toggles the volume, and the question mark displays further game-related information.
There are three volume controls in Settings. Background Sounds and Enable Sounds are toggle switches in the first two, and Master Volume is a slider that ranges from 1 to 10.
Additionally, the settings menu offers the choice of going directly to the info page or switching between the three speeds: slow, medium, and quick.
It's time to choose your bet size once you've returned to the main page. One adjustor is for value and the other is for coins, and they are side by side.
You can choose max bet if you're convinced that you prefer a bigger risk and reward, but doing so will cause the reels to spin automatically, making it impossible for you to change your choice.
A third adjustor is available to increase or decrease the paylines from 1 to 5. That will undoubtedly have an impact on both your wager and your chances of winning.
You may view the present balance and make changes to it on the right side of the screen. Based on how much cash you have on hand and the amount you can afford to lose, you ought to have created a budget for yourself.
All that's left to do is play and enjoy yourself by clicking the large spin button in the center of the screen or the autoplay button immediately adjacent to it (as much as 100 automatic spins, zero win or loss restrictions).
Never play recklessly. Play within your limits after knowing them.
Bonus Features for the Win Mill
As regards features, Rival Gaming favors simpler slots, yet Win Mill has two fun bonus options:
Extra Round
The bonus round will start if you get three coin symbols in a row. You can try to capture any additional golden coins that fall out of the mill for added rewards.
Random Win
This function is triggered at random. You must select the hand holding the coin from the two that will be displayed to you. You receive a reward if you do.
Review of Win Mill
It's a pleasure to look at and enjoy this endearing, captivating slot machine. In addition, even though it still appears straightforward by contemporary standards, it boasts a better RTP and more extra benefits than other Rival Gaming slots. There may not be a free spins bonus as in many other slots, but there is so much fun to be had here that you'll likely not notice.
Frequently Asked Questions
It has a 95.54 percent RTP, which is somewhat low.
What does the Win Mill bonus round entail?
You have an opportunity to win extra rewards when you have three coins.
Does Win Mill offer any other unique features?
You can select the hand that is carrying the coin in the random win option.