eCOGRA Online Gaming Regulation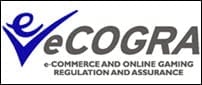 eCOGRA is a no-profit organization that works to support lawful casinos from different parts of the world. The name eCOGRA is an abbreviation of eCommerce Online Gaming Regulation Assurance.
Because of the numerous arguments regarding the honesty and fairness of online casinos, the vast increase of online players witnessed in the 1990s received a big hit, mainly resulting in a decrease of online casino operators. In 2002, two publicly listed companies (888.com – an online casino and Microgaming – a software developer) started collaborating and founded eCOGRA. Thanks to this newly born entity, the online gaming industry regained the trust of many players.
The development of eCOGRA aimed at creating a watchdog for the industry in order to improve online gaming world. It wants to serve as a solid basis to shape standards that would bring excellence in online gaming. Unfortunately, only the eCOGRA members fall under their control.
eCOGRA works hard to guarantee a smooth overall gaming experience for its players, by keeping them updated about their rights and duties. They presented an international outline, called eGAP, which aims at introducing the optimum operational and gameplay standards. By continuously checking and updating their standards, they seek the application and improvement of online gaming values as well as a higher protection for the members.
eCOGRA into the Online Software Game Industry
Their Seal of Approval is considered to be eCOGRA's real addition to the online gaming community, and is awarded to casinos meeting their extensive quality standards regarding fair play, safety of players, and the conduction of responsible business. In order to acquire this seal, casinos need to make sure that they store players' information securely, relying on authentic generators of random number, having no delays in payments processing, and behaving responsibly by showing honesty in their advertising. Online casinos that have been certified by the eCOGRA seal would openly display it for everyone. Casino reviews would even go a step further and question whether or not this specific casino deserves the seal. Finally, eCOGRA certified members agree with third party companies to conduct audits on a regular basis.
In the event that a player cannot resolve their issue with an eCOGRA certified casino, they have the option to contact eCOGRA's Dispute Mediation Department, whose role is to support players in order to have their rights respected and fulfilled. If a player deals with a casino that is not certified by eCOGRA, thus not showing any seal, they will have no one to support them in resolving disputes, which can be considered risky. eCOGRA's made an easy-access list for the players, listing all the online casinos that have been approved.