Gigantoonz Slot Review: Online (Play N Go) Slots Free Play and Bonuses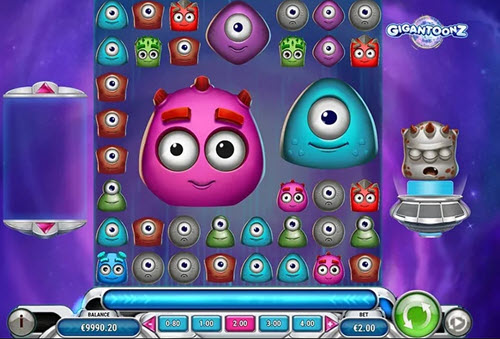 Pros
Experience with the Cluster Pays feature that is entirely unique.
Those that play in casinos were pleased with it.
There is a $100 maximum stake per person
Exciting and high-risk game.
An intriguing prize of a 4000x jackpot
Gigantoonz Slot Profile
Release date: January 2022
Provider: Play'n GO
Max. RTP: 96.25%
Reels: 8
Paylines/Ways: Cluster Pays
Betting Range (€/$): 0.20 – 100.00
Max. Payout: 4,000x
Progressive Jackpot: No
Megaways: No
Best Play n Go Casinos
Gigantoonz, a new video slot from Play'n GO's Toonz series, after the release of Reactoonz and Dr. Toonz in the previous years. We're going to discover what these Reactoonz can achieve, as well as the number of money players can make when they help as they become increasingly bigger.
The 8×8 reels and Cluster Pays feature of Gigantoonz are sure to please. Because of its extreme volatility, the maximum prize of 4,000 times the stake isn't all that impressive, but this is a game with a potential return to player (RTP) of as high as 96.25%. (highest value, but lower ones are also possible). As in any other slot game of this kind, the range of options includes cascading reels with Quantum Wilds, unique gauges to fill up, gigantic icons, and modifiers.
Gambling and Rewards
As little as $0.20 may be wagered. This is a slot machine everybody can enjoy playing. Spending close to $100 is also an option if you have a larger budget.
End-of-round payouts of up to 4,000 times the bet seem modest for such a risky slot machine.
The RTP with the maximum percentage is 96.25 percent, so focus on it. Many casinos will choose one of the four lowest settings, which are accessible.
Featured Games in the Gigantoonz Slot Machine
In an 8×8 grid, there are a total of 64 icons available to you. In order to build clusters of symbols, you must place them close to each other horizontally or vertically. Six or more symbols will pay you, but larger clusters (30+) will get you higher benefits.
So it's not a surprise to find the cascading reels technology employed in this kind of slot machine. When you have a winning cluster on the reels, the cascades feature kicks in, bringing in additional icons to replace the ones that were removed during the winning spin. Multiple cascades are possible since there are no restrictions.
The Quantum Wild is a helpful icon that may take the place of other symbols. Randomly, up to 10 wild symbols may appear on the reels at any time, but only if you didn't establish a cluster during the previous spins.
You'll see giant symbols show up from time to time. They may take over places ranging from 2×2 to 7×7. The game doesn't care about the number of places filled since they may count as up to 13 icons. A wild symbol will take their place after the cascading reels eliminate them.
However, mega symbols may not always be able to fit into the available locations and will instead be replaced with regular-sized icons of the same kind.
The winning icons are gathered in a Quantumeter as you assemble your clusters and activate cascading reels. Several modifications may be activated as you continue and fill up this meter.
Disintegration, which removes four sorts of icons from the gaming area, costs 25 charges.
Metamorphosis, a transformation of one sort of symbol into another, is triggered by 50 charges.
There are five Quantum Wilds and up to four mega symbols when you reach 75 charges.
To activate Gargantoonz, the meter has to be filled with 100 charges. As a bonus, you'll get three or more additional mega Gargantoonz in addition to up to four normal Gargantoonz when you spin the slot's mega symbol. Afterward, the giant Gargantoonz will break into smaller ones, allowing them to escape the playing field.
Design and Theme
When compared to the several previous games in the series, Gigantoonz doesn't alter much in terms of concept and design. On its reels, you'll find 10 symbols depicting aliens with either one or two eyes for each color. The reels are kept interesting by using both standard and mega-sized symbols.
Final Words
The Gigantoonz slot machine is a blast to play, but that's not why the series is so well-known. Even though I liked it and all of its other features, it has a lower-than-average jackpot.