Moon Princess Slot Review. Online Slots (Play 'n GO)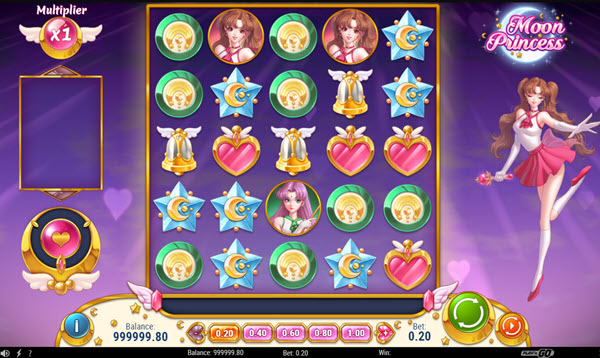 ---
Play 'n GO Casinos
Moon Princess Slot Game
Moon Princess is a game developed by Play n GO that is loosely based on the manga animation of the same name. It is a full-fledged anime celebration, complete with pastel tones and cute little touches. You will not find Princess Serenity or Sailor Senshi here, but three doe-eyed, leggy beauties, each with their special ability, will keep you entertained. Prepare for a lot of girl power and some surprisingly manic, if initially perplexing, gameplay.
Moon Princess will feel right at home with fans of Japanese animation. Meters, collection boxes, and multipliers accompany the simple visuals and make more sense after you have seen them in action a few times. The princesses Love, Star, and Storm stand on the right side of the screen, cheering on the players as they spin. The grid itself is made up of 5 times 5 grid that fills with 25 symbols on each new spin and is available from 20 p/c up to British Pound/Euro 100 per spin. Setting the whole extravagance off necessitates the use of stakes available.
By the way, the word "pop" is a good one because when three or more matching symbols appear (horizontally or vertically), they explode and fall into the box on the left. The remaining symbols fall into the gaps, potentially forming new winning combinations. To aid in this process, the middle position of a three-symbol combination remains on the grid and becomes wild, allowing for repeat winners.
A win multiplier that starts at times one (1) and increases by plus one (+1) with each new drop raises the stakes even higher. This clever mechanic allows for epic chain reactions of consecutive wins with ascending multipliers, which may be difficult to express in words. It will not always be that way, because Moon Princess has a 10/10 volatility rating, resulting in wild swings in play. The other critical characteristic of the math model is RTP, which has a default rating of 96.5 percent, though some operators may switch to a lower setting, so check before firing up.
When the pay-table is opened, players should brace themselves for a shower of glitter. Low pay symbols include trinkets like a golden-green charm, a moon star, a heart, and a winged bell. The three highest paying symbols are the three princesses, who all payout 10 times the stake for a combination of 5. We already mentioned the wild, which can replace the pay symbols; it also offers payouts of 50 times the stake for a group of five. If wild symbols are the only ones left on the grid, they are removed, allowing players to access the free spins feature.
Moon Princess: Features
Moon Princess has a plethora of features that add to the overall chaos of the game. The Girl Power feature may appear at random on any non-winning spin. Depending on which princess is standing beside the grid at the time, there are three:
Love changes one set of symbols into a different type of symbol.
The star symbol adds one or two extra wilds to the grid.
Storm removes two sets of symbols from the grid. Maintain an eye on the power meter to the left of the screen. When it is filled, it activates the Princess Trinity feature. The meter is divided into three sections, which are filled in the following order:
One section is filled with three of a kind.
Four of a kind fills two sections.
Three sections are filled with five-of-a-kind combinations.
When the meter is full and there are no more wins on the grid, the player is given one free spin. This spin allows Love, Star, and Storm to use their powers one at a time, increasing their chances of winning.
The main goal of Moon Princess is to clear the entire grid to activate the main Free Spins feature. When this happens, players can choose between Love, which awards 4 free spins, Star, which awards 5, and Storm, which awards 8 free spins. The chosen princess retains her Girl Power for the duration of the game, and even better, the drop multiplier does not reset between game rounds, despite having a maximum of times 20.
The meter is involved in free spins as previously described, but it now also awards more free spins when it is full. Players can earn up to 20 extra spins for the Love Princess, three for the Star Princess, and two for the Storm Princess feature. The Princess Trinity feature does not come with free spins; instead, if the grid is cleared, players will win an instant 100x their total bet.
Moon Princess: Verdict
A lot is going on here, so you will have to see Moon Princess in person to get a true sense of what it is all about. All of this talk of princesses, love, and moons may be off-putting to some, but hopefully not because Moon Princess is a fantastically designed slot.
These kinds of games are all about getting on a roll, and Moon Princess can certainly do so. Combos lead to full meters, modifiers, free spins, and other benefits. When things are going well, chains of winners can seem to go on forever. Keep in mind that it is highly volatile, so not every spin will be an epic ride to glory.
When it goes, it can certainly go crazy, though the stated maximum win potential of 5,000x appears to be a bit exaggerated. A maximum win of half that amount is more realistic. In any case, combine that figure with the high-performance math model, and you have got a game that overcomes any aversion to the theme you might have. When Moon Princess gets going, you often have no idea what is going on – even if you have read all of the rules. But it makes no difference. Moon Princess is a flurry of activity where you should just sit back and enjoy the anime craziness.
Do Not Miss
If Moon Princess ticks all the right boxes for you, you will probably want to check out the Christmas version, Moon Princess Christmas Kingdom or, the Egyptian-themed Sisters of the Sun version, both of which offer wins of up to 15,000 times your stake.