Gingerbread Joy Slot Review: Enjoy the 1×2 Gaming Slot Now!
To win large prizes and bonuses in this 1×2 Gaming slot, you'll need to visit the kitchen and prepare some gingerbread cookies. There's no need to provide your email address or register to play.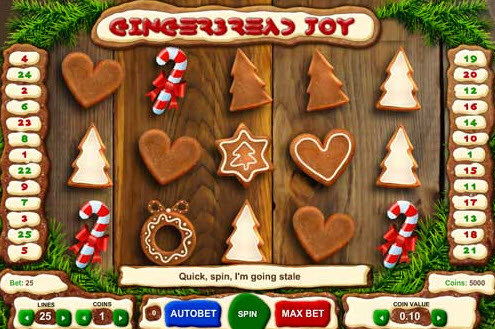 =>Play on Gingerbread Joy Slot
Everything about fresh-baked Gingerbread in the wintertime is sure to bring you joy, and this this exciting slot machine by the giant, 1×2 Gaming, titled "Gingerbread Joy," is no exception to this rule. All kinds of Gingerbread, such as Christmas trees, hearts, and stars, may be sampled for rewards as you play exciting bonus games, such as Scattered Star, Wild Stars, and Gingerbread Men, which give delightful things like bonus spins as well as prize multipliers.
It's a Gingerbread feast for slot players of all stripes, with a wide range of coin, line, as well as coin-value combos to pick from, as well as the opportunity to play on your iPad, Android tablet, or Kindle Fire, which all provide excellent gameplay.
Something is cooking
There will only be one source of heat in your kitchen: the newly cooked Gingerbread, because every other cookie has already been prepared and are neatly arranged in a 5 by 3 grid on the table in the kitchen. To view a fresh batch of possibly prize-winning cookies, just spin the reels.
Huge Payouts
All of the rewards you win on this entertaining slot machine are multiplied by your coin and coin value combination, so they're as hot as a new batch of cookies. Heart-shaped cookies, Christmas trees, wreaths, stars, hearts with a hole, holly, and iced Christmas trees are all eligible for up to 20x multipliers.
All of the stars that have the word "Scatter" iced upon them should be eaten up as they will activate the Free Spin Bonus and immediate winnings. 3 Scattered Stars provide you 22x your coin-value and 5 free spins; 4 Scattered Stars give you 80x your coin-value and 10 free spins; 5 Scattered Stars grant 400x your coin-value and 15 free spins; and so on and so forth. All rewards are also doubled during free spins. This character may also appear during your free spins bonus, and if you land two or more of them on an active payline, you'll be awarded a reward that multiplies your coin value by 2. In this case, 2 Gingerbread Men equals 7x, 3 Gingerbread Men equals 30x, and 4 Gingerbread Men equals 100. In addition, the Wild Heart Cookie may be used to create additional winning paylines at any moment by substituting for any other cookie.
Make Stakes in the Oven
It may take 15 minutes to prepare gingerbread cookies, but it won't take you that long to discover the right spin-stake. You may play up to 25 lines on a single spin, and you can insert up to 5 coins on each line with a coin value of between 0.01-0.50. A maximum stake of 62.5 coins may be placed each spin, with a minimum bet of 0.01 coins every spin.
It's Wonderful!
If you're looking for a way to cheer up the dreary months of winter, we're sure that this slot machine will be a hit with you!