Habanero Casino Software. Best Online Games Here:
You probably haven't heard of them, but Habanero is here to dominate your online casino experience. Yes, they are a small team of creatives but these guys are really good at what they do. That's their mantra, becoming a brand you can't ignore. So, they might not become the biggest software developer in the near future, but they are setting their eyes on something bigger. They are setting their eyes on being the best.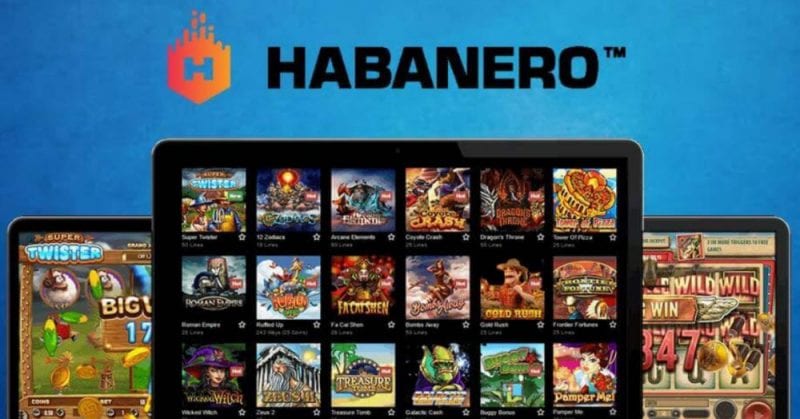 Started in 2010 with a humdrum track record, things started sizzling up in 2012 when Habanero caught the attention of a group of brand new folks. These guys from Europe turned things around in Habanero and started what would be the turning point in the history of the brand. Boasting of over 4 decades of casino expertise, these group of guys from Europe now make up Habanero. And they now have 80 slot games, 10 table games, and 10 poker games in their arsenal. These Habanero titles are all built in the HTML5 technology making them truly impressive specially when it comes to mobile gaming.
Habanero now has offices in different cities around the world including Manila, Johannesburg, Sofia, and Kiev. They supply online and land-based casinos the world over with casino games that are simply exceptional. Though Habanero is still considered to be an up and coming brand, they have already proven themselves as a brand to watch out for. For that reason, they have landed lucrative partnerships with casinos worldwide. So the next time you step into the virtual doors of your favorite casino online, check out Habanero and their gaming collection if you haven't already. You won't be disappointed.
The Habanero Platform
One of the services Habanero offers to casinos the world over is their platform. This platform provides casinos with services like unified reporting on all currencies, versatile gaming configuration, and the management of jackpots, players, and bonuses.

What makes Habanero stand out
Competition is tough in the industry these days. The big software developers do have the upper hand when it comes to the sheer number of titles they have in their gaming collection. But brands like Habanero are making a statement as well. They are making their mark not by competing in the numbers game but in the quality of their titles.
The first thing that makes Habanero titles stand out when it comes to slots is the progressive jackpot that comes in 4 levels. Almost all of Habanero's slots have this feature. Players can land a Grand, Major, Minor or Mini jackpot all while spinning the reels of a Habanero slot. So the potential of landing a big win just becomes much more attainable.
Another thing that sets Habanero titles apart is the richness of the visuals each title offers. The graphics of each title is simply exceptional. And the soundtrack equally delights. The creative team over at Habanero truly knows what punters the world over want. And they truly live and breathe the elements that make for a delightful session spent spinning the reels. The creative team at Habanero rarely disappoint with every release. Add to the high quality visuals and soundtrack, distinctive themes that truly make each Habanero title come alive.
Habanero is set to release one title per month so their gaming arsenal, along with their platform offering, is steadily growing. These games are all built in HTML 5 making them mobile friendly. For punters who are fond of gaming on the go, that is definitely great news. Whether you are playing through your mobile phone or tablet in landscape or portrait mode, Habanero games will work seamlessly regardless.
What is even cooler is that Habanero allows players to play multiple games at a time. Habanero games are all designed so they can be played simultaneously to maximize the winning potential. These games come with varying RTPs so players can be sure to have fair gameplay each and every time. Checking on how you are doing while gaming will also be a breeze with a Habanero title as most Habanero games come with a real time game history that you can view in game.
Habanero also boasts of top quality control so players can be sure that their safety and security while playing will never be compromised. Habanero is both licensed and regulated by top names in the industry. Players can rest assured that their personal information on the platform will never be undermined. Also, the fairness of every game is a top priority for Habanero games. Habanero crafts RNG or random number generator games to ensure the fairness of each and every session in a game they offer.
Online casinos draw players, both old and new, through offering bonuses and promos. Habanero knows that, so they have teamed up with online casinos that offer the most generous welcome bonuses known to the industry. You can find Habanero games in casinos that are top notch when it comes to their bonus and promos. These casinos also offer regular bonuses and promos to keep old timers from looking elsewhere. Punters the world over just love what these casinos keep bringing in. And Habanero also offers them access to the new releases they come up with each and every month. Players the world over will have access to these and more through your favorite online casinos. The next time you visit your favorites, check out Habanero games.
The best of Habanero
Video slots are definitely one of the most popular casino games today. And it comes as no surprise that most of Habanero's gaming collection is made up of these types of casino games. Punters the world over just love their video slots. And both online casinos and sofware developers know that. Most big names in the industry has dedicated a big chunk of time to developing slots that catch the attention and keep punters coming back.
We have compiled a list of Habanero's best slots we have come across over the years. These slots are truly top notch and will surely delight punters the worldwide. These slots boast of exceptional visuals, crisp graphics, superb attention to detail, equally impressive soundtracks, and distinctive themes. Habanero's creative team definitely has not wasted over 4 decades worth of industry expertise they have under their belt. They have come together to create highly top notch titles that just steal the show each and every time.
The Dead Escape
This one has been a massive hit. The creative team over at Habanero has capitalized on today's fascination with doomsday scenarios and the zombie apocalypse theme has been ubiquitous. If you love the tv show The Walking Dead, you will also love this title. The visuals, as always from the guys at Habanero, does not disappoint. The visuals of this slot are exceptional. This slot has 5 reels and 30 paylines. And the free spins feature which gives you initially 15 free spins is just rewarding. The Dead Escape is a truly excellent slot you will not want to miss.
Koi Gate
Koi Gate is an underwater adventure waiting to be explored. This slot is another visual masterpiece from Habanero. And it is just a delight to the senses. This slot comes with 5 reels and 18 paylines. It comes with a 4 level progressive jackpot so each spin can land you the Grand jackpot anytime. Koi Gate is perfect for high rollers as the slot can be played to an amazing 900 per bet. So if you are eyeing to rake in big wins, this slot might just do it for you. Plenty of free spins and impressive multipliers are also part of this exceptional title to keep your bankroll steady.
Coyote Crash
Coyote Crash has a Western theme with robbers and cowboys battling it out in the wild wild west. This slot will bring back the child in you as the cowboys and robbers as illustrated not as humans but as anthropomorphic animals. Complete with exceptional graphics and an equally exciting soundtrack, this slot will surely captivate punters the world over with an adventure of a lifetime. This slot has 5 reels and 25 paylines and has the 4 level progressive jackpot feature. Free spins awarded to players can be as highs 50 with a 4x multiplier with every win.
Jugglenaut
This 5 reel and 50 paylines video slot is horror themed and will bring your nightmares to life. If you are a fan of the American Horror Story's Freak Show, you will definitely go berserk with this title. This slot boasts of beautiful graphics with intricate details that are just impressive. It also has the 4 level progressive jackpot that Habanero is famous for so there are plenty of reasons for punters to love this outstanding title. With scatters coming in with 100x multipliers and free spins that keep coming, punters will have no reason to go looking elsewhere once they find themselves settled in a session of Jugglenaut.
Panda Panda
This adorably themed slot from Habanero has 5 reels and 243 ways to win. Asian themed slots are definitely not new to the industry but Habanero just makes this slot unique in its won way. The graphics and the soundtrack all make for an extremely relaxing session spinning the reels. As always from the guys at Habanero, this slot boasts of beautiful visuals that will surely steal your heart, as cute as pandas are.
Classic Games
We know punters love their classic casino games, and Habanero knows that too. Their gaming collection includes some of the classics as well. Table games such as Roulette, Sic Bo and Blackjack can be found in the Habanero arsenal along with 7 others. Deuces Wilds, Tens or Better and All American Poker and others make up Habanero's 10 video poker titles. Slots may take the crown for being the most popular casino game today, but the classics can not be ignored.
Conclusion
Before you dive in completely into one of these Habanero titles, you can play for free directly through their websites as they offer demo versions of most of their titles for players to try out. Demo versions are perfect when you want to get to know how a software developer does things, especially if you are new to them. They offer a great way for players to get a feel of whether a software developer really does deliver and is not just all hype and no substance. So head on over to Habanero's website if you want a free version of one of their games, especially if you want to try one of the games we have featured in this review.
Overall, Habanero just proves that they are out to dominate the casino industry through a clear focus on providing the best games in the industry. Their gaming collection is ever expanding, with new releases set every month. Plus, their intense focus on high quality just puts them as one of the top notch software providers today out to conquer the market with a unique gaming library.
Habanero titles are just superb when it comes to visuals and soundtrack. The gaming experience is even further enhanced by distinctive themes that reflect both today's new fascination and classics that have already stood the test of time. We would not be surprised if one of these days, Habanero takes a big chunk when it comes to market share despite them being a considerably small player in the game. They have surely proven themselves and will continue to do so with every new release. Do check out one of their titles the next time you visit your favorite online casino.