NFT  Casino – Online Casino launching NFT Project to change the casino game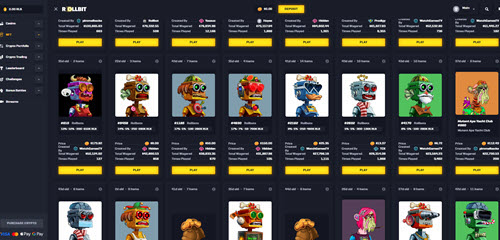 Rollbots is the first-ever NFT project from a casino that Rollbit is launching. This is one big project that might transform NFTs forever.
Rollbit is a popular online casino that focuses on cryptocurrencies, and they are launching their NFT collection soon. This is fantastic news in the world of cryptocurrency because this is the first-ever NFT project that would be launched by a Casino, both online and offline.
February 2020, was the date that the Rollbits online casino platform was launched with a large number of online games. They moved from slots, to table games, to game shows, to in-house gaming, and others. Rollbits is quite distinct from other online casinos because they focus on only cryptocurrency. That is why their choice of going into NFTs is amazing.
Rollbots NFTs
The Rollbits NFT project, Rollbots, is like other well-known NFT collectible collections. Rollbots is a combination of ten thousand NFT Robots that were algorithmically created using more than one hundred and eighty different traits. Rollbits admitted that they were motivated for the Rollbots project from other famous projects like Avaegotchi and CryptoPunks.
Every Rollbot NFT also serves as a membership card for its owner. They will look like a regular VIP membership that a physical casino would offer. Being the owner of a Rollbots NFT comes with a lot of privileges.
The NFTs in the collection are similar to a Pixar-stylized digital art piece of a Robot. Every Rollbots is built with more than one hundred and eighty possible traits from seven different properties. These properties are ears, eyes, teeth, clothed, bodies, hats, and backgrounds. And every trait has its unique rarity thus making some of the Rollbot NFTs more scarce than others.
This NFT project is not where Rollbits is stopping. They are in search of ways they can modify the NFT collectible game with their project. Unlike many other NFT collections, the only essence of the NFT is from the rarity and the collection itself. A lot of people have criticized many NFT collections because they don't offer any real utility above being digital art. But Rollbits wants to change the norm with their Rollbots collection.
"We are creating our bit of history in the era of the digital renaissance by becoming the first crypto casino to launch a utility-focused NFT project." was the statement they made when they introduced their Rollbots NFT project.
Rollbots Whitepaper
The Rollbot NFTs will go beyond just having a beautiful image, and provide real utility to whoever owns it.
Rollbots Membership
This is not the first NFT project that will serve as a VIP Membership Card for the owner, and maybe it won't be the last either. What distinguishes them are certain benefits they intend to offer Rollbots owners. Every Rollbot offers unique benefits to its owners and assures them of real utility from the first day.
From Rollbots White Paper
They can make Rollboxs, gain Rakeback, and after the launch of their marketplace gain several sales. In the future, Rollbits intends to introduce Rollbot themed games and lotteries that can provide Rollbot NFT owners with more benefits.
NFTs that could change the game
When an NFT project first talks about its launch, there is normally a full plan and road map for the project. They talk about the thing that will happen when they sell a certain number of NFTs to what they plan to do with the project in the future. These plans are expected to aid the project to raise money from the NFT sales and to keep funding the project in the future.
Rollbots are different from that because Rollbits has been operating successfully for almost two years, they can add utility in their NFT project from the beginning. Though, that utility is the point where things will begin to get interesting.
Going back a bit, every Rollbot NFT has one of seven various properties. Every property of the Rollbot NFT offers its owner a distinct utility benefit. For instance, the hat that a Rollbot has determines the portion of the profits that would be collected from future NFT marketplace sales. The Rollbot's body determines the Rollback that the owner would collect for their Rollbit account. Finally, the clothes that the Rollbot wears determine the portion that the owner would collect from the revenue from Rollboxes.
Rollboxes are a means for Rollbot owners to gain some money from the NFTs that they own, and not just Rollbots. Owners of Rollbox NFTs are free to develop their Rollboxes and become the House in their casino game. So, Rollboxes are similar to slot machines. The Rollbox developer will set various winning probabilities and prizes for the game. Then, other Rollbit casino players can play the Rollboxes and either lose or win. Also, the Rollbox developer will collect part of the wins and bet amount in return. Rollbot owners can decide to either stake their crypto-cash or NFTS or Rollbot as prizes in the game.
This type of utility is not often witnessed in NFT projects and has great potential for NFT projects that will come up in the future. CryptoPunk has a beautiful look, but can it do anything? But Rollbot can.