Best 10 (2 By 2 Gaming) Online Casinos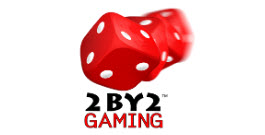 2 By 2 Gaming is a new and exciting software provider that offers its players a wide range of games. This review will give you a comprehensive overview of what the provider offers.
With offices in Chicago, this software company develops and distributes slot machines and social gambling platforms for internet and brick-and-mortar casinos.
Game Software by 2 by 2 Gaming
Over 40 slot games, covering everything from the world of sorcery (as in the Magic of Pandora slot), the Norse myths (as in the Loki Wild-Tiles game), and the realm of fairy tales (as in the Hansel & Gretel: Treasure Tail slot) can be found in 2 By 2's gaming portfolio.
Almost all modern slot games are built using HTML5 to ensure compatibility with popular mobile operating systems, including iOS, Android, Windows, and other platforms. You may adjust the games to suit any screen size. If a game is not developed in HTML5, it will likely be supported by Flash-dependent technology optimized for desktop computers. Their slot machines typically include 25–60 betting lines and a 35-playing grid. Because their slots range in volatility, games like Magic of Pandora's jackpot might be worth a whopping thousand times your initial wager. The many extra features in 2 By 2 games are bonus spins, wild icons, and much more.
Background and Philosophy
This casino software provider was founded in the Chicagoland region in 2016. Shridhar Joshi, who boasts more than 45 inventions and over twenty-five years of expertise in the online gaming business, established and still manages the company.
For 2 By 2 Gaming, making exciting slot machines with a wide range of variance, gameplay mechanics, and unique features is a top priority. 2 By 2 Gaming creates both free social gaming games and slot machine options for brick-and-mortar casinos, besides their popular video slot machines for actual cash internet gambling solutions found at casino sites across the globe. Together with the industry's top software developers, including Bally Technologies, Alfastreet, and Incredible Technologies, 2 By 2 has brought its products to global markets, including the United States, Macau, and Europe. You may play games from social casinos like Tropworld and Mega Fame Online Casino on Facebook, Android, iOS, and Kindle.
2 By 2's online gambling services are founded on cutting-edge code created by a team of experts fluent in various languages. 2 By 2 employs professional mathematicians so that their games may include the kinds of innovative features and benefits gamers want. In addition, a group of highly regarded graphic designers creates visually appealing animations and integrate 2D and 3D art into slot machines.