Copy Cat Fortune Slot Review: New (RTG) Slots for Real Money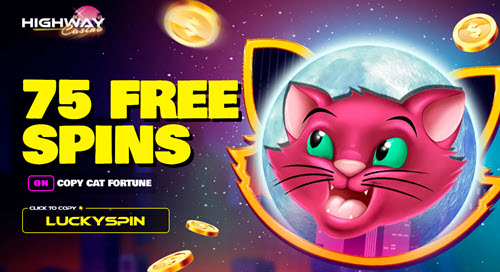 Best RTG Casinos
Read our review of the Realtime Gaming-developed Copy Cat Fortune video slot or play the demo version for free right now! Click here to get to the website!
The Copy Cat Fortune game is a Realtime Gaming video slot that allows users to reap the benefits of the many cats that roam the streets of New York City during the night plus the goods they carry in with them. It's a terrific game for players who prefer to go for the big prize since it offers a variety of different free spins methods as well as additional bonuses with high payoff potential.
When new animal-themed slots are introduced, we are delighted to see a variety of them. These games, such as the Buffalo King Megaways online slot, are becoming popular in the present period since they are largely based on animals found in the jungles throughout a variety of geographical locations. Although it is set in a metropolitan area, the Copy Cat Fortune slot machine is mainly concerned with providing players with something more intriguing to enjoy.
Nothing is predictable when it comes to cats in the city. It is impossible to predict the things they will come up with. Fortunately, this slot does an excellent job of capturing that vibe.
The visual aesthetic is the first thing we anticipate most gamers will notice. Put another way, it's outstanding. When it comes to slot machine presentation, Realtime Gaming hasn't always been considered a leader. However, in the current age, the company has made significant strides in this area. As a great illustration of this, consider the game in question. A great deal of attention has been put into each and every one of the cats, other animals, and other symbols.
Despite the fact that the visuals are stunning, RTG hasn't forgotten about the gameplay. On the one hand, this game provides you with opportunities to participate in a variety of different types of additional features. In addition to that, the normal paytable is brimming with bonus opportunities, including wilds and other special features. Once everything is put together, this style of play is a good match for the subject. All in all, gamers will find the bundle entertaining and well-constructed.
The layout and the betting process
With this game, the structure and layout are really simple to learn and use. That Realtime Gaming didn't feel the need to make things different just for the sake of being different is something we appreciate. As a result, they chose a really robust playing style that serves as a fantastic basis for all of the elements in this game. A summary of what to anticipate is provided below.
On each reel, you'll see three rows of symbols, for a total of five rows per reel. While playing those reels, you may sometimes be able to glimpse a little portion of the symbols above and below you.
It has been decided to provide a total of 25 paylines in this game. The fact that it is the most often used number in RTG slots is not surprising to us.
There is no way to adjust the number of paylines that are now active, which is a shame. Furthermore, they will only pay from the far left to the far right of the screen.
Beginning at 0.25 euros for each turn, bettors may place their bets.
The maximum bet per spin in this game is 25 euros, but you may place as little as 1 euro.
This game's volatility will be significantly above average due to the fact that it has a feature-heavy play style. When it comes to how we choose to categorize video games, it really falls within the medium-high level. Aside from that, there are a few more swings than the industry average in this case. In contrast to the majority of progressive slots, this one is not over the top.
According to the coin values indicated on the paytable, there are several winning combinations. Moreover, the assumption is that you'll be using 25 coins every turn, so you may divide your total bet amount by 25 to get an idea of how much each of your coins is worth. A similar approach may be used to determine how many times the coin wins would be shown if you wanted them to be presented as a multiple of the total stake amount by dividing the coin winnings by 25.
The Copy Cat Fortune Slot Game's Features and Gameplay
The gameplay in this game is fantastic, and it boils down to providing a large number of opportunities for earning money in both the main game and the extra features. In particular, the free spins are a little out of the ordinary. Therefore, we advise players to go over the following Copy Cat Fortune online slot features in order to gain a better understanding of what they may anticipate before playing.
The symbols of the wild cat
It follows in the footsteps of other similar-themed slots, such as King of Cats Megaways, in that it is focused on a particular cat. The primary character, a feline, serves as both the wild emblem and the main character in this story. Thanks to the fact that he is so significant, he appears on each of the game's five reels. His ability to deliver the finest regular payments possible in the game enables him to provide the following benefits:
The three of a kind is worth 40 times its value.
The five of a kind is worth 400 times its value.
The four of a kind is worth 100 times its value.
The fact that this wild substitutes for all other symbols in the game save the dispersed moon symbol should not be overlooked. Also worth mentioning is that this symbol may be used to get a large number of extra payments via substitution while also providing top-tier winnings on its own.
Payouts from the Scattered Moon
Between the scatter symbol and the wild symbol in the Copy Cat Fortune video slot, it's difficult to determine which is more essential. In either scenario, the scatter symbol delivers rewards that are a multiple of the entire amount of money wagered on the slot machine game. Unlike other previous line-based victories, which are determined by coin quantities, this one is determined by line length.
The following are the rewards that this bonus symbol with a scattered moon may provide:
Five Moon Scatters are worth 50 times their value.
Four Moon Scatters are worth 25 times their value.
Three Moon Scatters are worth 5 times their value.
Please keep in mind that the rewards for the dispersed moon symbols are determined by multiplying your wager by a multiple of the total amount bet. All of the other rewards in the Copy Cat Fortune video slot are dependent on the number of coins bet, except these.
Get Free Spins on Copy Cat Fortune
With at least three of the bonus symbols on a payline, you may trigger the free spins feature and begins playing. They must, however, appear as payline wins, which is different from the way they are paid out in the previous section of this article. The initial number of free spins you can get is as follows:
Eight free spins for getting five of a kind.
Six free spins for getting four of a kind.
Five free spins for getting three of a kind.
Keep in mind, though, that it is possible to win on numerous lines at the same time in certain situations. Upon receiving at least 10 free spins, you will be given the choice to pick from a number of different alternatives. First, you may get free spins or free turns on a regular basis when you play on a slot machine with 50 paylines (but half as many free turns).
Two extra choices are available when you have a total of 30 or more free spins available. Super Free Games and Mega Free Games are the two alternatives available to you. Using the Super option, you will get one-third of the free spins (based on the closest whole number) along with a three-fold multiplier on all 25 lines. Choose the Mega option instead, which provides a similar experience but with one-fifth of the free spins and a 5x multiplier rather than the regular choice.
It should be noted that the 50-payline option does not have a multiplier associated with it.
The Feature of Mystery Stacks
The Fortune Cats Golden Stacks game is similar in that you may acquire mysterious stacks of symbols on each reel, which is comparable to the Fortune Cats game. Each time they are spun, they will be changed into a new symbol at random, ensuring that all of the symbols on the board are the same. Multi-line victories with that symbol have become far more common as a result of this.
One thing to keep in mind, however, is that these stacked symbols have the potential to transform into bonus symbols or wilds as well. In most current slots, it is not something that can be found, but Realtime Gaming provides it for its gamers.
The Feature for Reel Copy
When you use this feature, you will be able to see the copycat part of the game's name. The triggering of this feature occurs when you acquire a stack of matched symbols that completely fills the first reel. Following that, the matching set of symbols will be duplicated on at least one further reel, but up to four additional reels. The rewards are then calculated based on the information provided before. Remember that even if this replaces a scatter symbol, it will still contribute toward the payout totals!
Additionally, we'd like to point out that this feature is accessible in both the standard game mode and in all of the variations of the free spins.
Copy Cat Fortune Video Slot Gameplay Instructions:
The fact that the volatility is so moderate is critical to the success of this strategy. As a result of the fact that it is somewhat above normal, there may be some fluctuations in price here and there. In light of the above, we do not believe it is sufficient to compel the majority of players to make any kind of wagering modification.
When it comes to swings, if you are someone who is especially sensitive to them, lowering your bet amount by one position should be sufficient compensation. Even though it is not essential, if that is your favorite playing style, it might be beneficial.
The Copy Cat Fortune Online Slot has a simple payout structure.
Symbols such as the fish and parrot are surrounded by colorful squares. These symbols are the highest-paying regular symbols, with winnings of 200x and 125x for five of a type, each earning you a payout of the maximum possible. The purple wind-up mouse toy may also be redeemed for 100x points if five of them are obtained. A 75 times multiplier is also available from the milk and yarn.
The card rank symbols are written in a playful style that complements the night cat motif well. Depending on how many lines you have, they pay anywhere from 60 times to 40 times.
Final Words
When playing the Copy Cat Fortune slot, you may choose from a number of different free spins features, allowing you to completely personalize your gameplay. It should also be noted that the ordinary game mode has several enjoyable elements as well. The fact that they all match with the game's idea results in a unified experience that we believe the majority of players will like.
The amount of volatility is the one thing that leaps out at us as something that certain players may not appreciate. It is possible for almost everyone to correct this problem with a simple betting modification, though.
Frequently Asked Questions about the Copy Cat Online Slot
What is the Return to Player Percentage (RTP) when it comes to Copy Cat Fortune?
In Copy Cat Fortune, the return to player percentage is 96.76%. This slot, which has a return to player percentage (RTP) of 96.76 percent, is among the slot games that have a typical return to player. It would have to be 98 percent or above to qualify as a high RTP position.
How can I find out which online casinos have Copy Cat Fortune available?
To discover all of the online casinos that provide Copy Cat Fortune, see the list of Copy Cat Fortune casinos. Only Copy Cat Fortune casinos that allow players from your area are shown at the top of the RTG casino list.
Best RTG Slots