Golden Grimoire Slots (Netent) Game Online!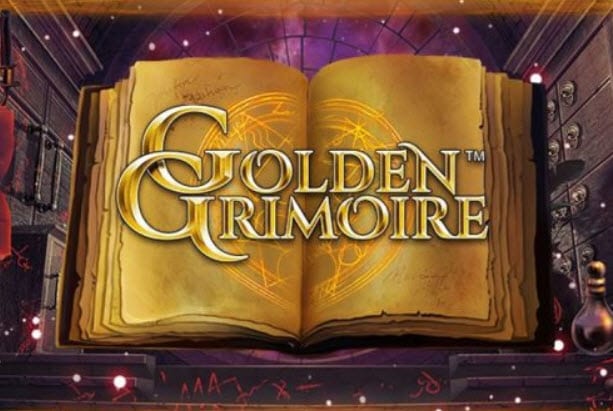 >>Play on Golden Grimoire Slot>>
Golden Grimoire is another outstanding video slot from top software developer NetEnt. As with what NetEnt is known for, you can expect no less than a satisfying gaming experience with every session on this video slot. The guys at NetEnt have been known for flawless video slots that just exceed expectations so you can definitely be sure that this video slot will not disappoint.
Crisp animation, rich visuals, and, as always, a unique and well thought out theme, you can expect to have the time of your life with every session of Golden Grimoire.
Let's take a closer look at this outstanding video slot from the guys over at NetEnt. Let's go!
Best NetEnt Online Casinos
Features
Golden Grimoire has a number of symbols including animals like snakes and insects on gemstones of different colors. The most valuable symbol in this video slot is the spider on top of a red gemstone as this symbol will give you the highest amount of payout.
The wild symbol, which takes the place of every other symbol except for the Scatter and the Mystery Symbol in the game to help players land bigger winning combos, comes in the form of a golden skull.
Golden Grimoire has 5 reels, 4 rows, and 20 fixed lines. And, this game also comes with Mystery symbols, Sticky Mystery symbols, and free spins bonus games.
The Mystery symbol comes in the form of the Golden Grimoire which means that it is illustrated as a book of spells. It can land on reels 3, 4, and 5 while on the main game. The Mystery symbol, when it appears on reels 3,4, and 5, will then transform into any of the medium to low win symbols or the Wild symbol. The wild symbol can only appear in the game as a result of this.
When you land 3 Scatter symbols on reels 1, 3, and 5, you will trigger the bonus game which will give you 8 free spins. On the bonus game, the Mystery symbol will be replaced by the Sticky Mystery symbol which can appear on reels 2, 3, 4 and 5.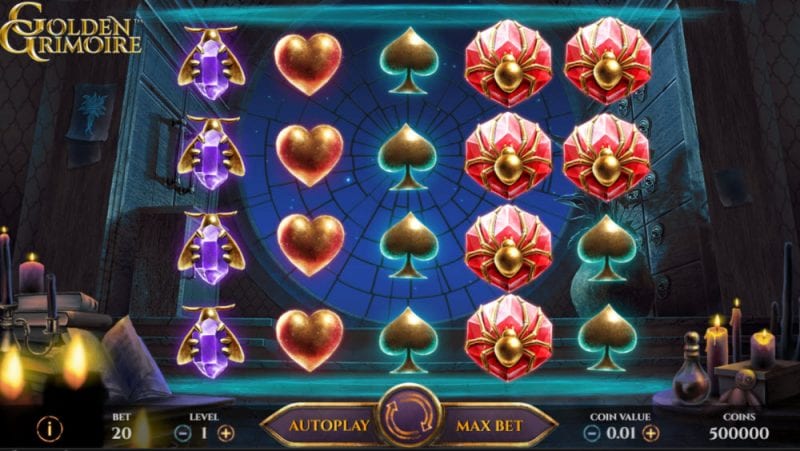 Look and Feel
If you are a fan of the ultra popular Harry Potter series, then you will definitely love the concept of this video slot. Golden Grimoire looks like it has been exported straight from the world where wizards and witches walk the streets and where magic is a as common as sunshine and bread.
What is the Golden Grimoire, you ask? It is actually a book of magical spells. No surprise there as this video slots screams magic and wizardry with its rich graphics and equally mystical soundtrack.
The guys over at NetEnt has definitely not held back when it comes to the creativity of their creations. And this video slot is no exception to that.
For the Win
Golden Grimoire has 40 paylines. The RTP is at 96.44%. Plus, the maximum reward you can take home is 200x your initial wager.
Below, you'll find the corresponding payout for each symbol combo. And, the coin value is at: 0.01, 0.02, 0.05, 0.10, 0.20, 0.50, 1.00, 2.00.
Red Gem Symbol: 10 for 3X, 30 for 4X, 100 for 5X
Green Gem Symbol: 8 for 3X, 25 for 4X, 75 for 5X
Blue Gem Symbol: 5 for 3X, 20 for 4X, 40 for 5X
Purple Gem Symbol: 5 for 3X, 15 for 4X, 30 for 5X
Red Heart Symbol: 4 for 3X, 10 for 4X, 20 for 5X
Green Club Symbol: 4 for 3X, 10 for 4X, 20 for 5X
Blue Spade Symbol: 3 for 3X, 8 for 4X, 15 for 5X
Purple Diamond Symbol: 3 for 3X, 8 for 4X, 15 for 5X
Conclusion
Golden Grimoire is another excellent video slot from the guys over at NetEnt. The visuals are stunning and the whole gaming experience is made even more entertaining by the magical theme. The atmosphere of wizardry and witchcraft just makes a session on this game truly rewarding and engaging. The soundtrack is even more mystical.
The volatility of this game is at low to medium so players can expect some nice wins on the regular though these wins might be a bit small compared to other slots. The bonus features add another level of excitement for this video slot.
Overall, this video slot is truly entertaining. We highly recommend you check out this video slot for yourself the next time you step into the virtual doors of your favorite online casino. Golden Grimoire truly does not disappoint!